The eyes are the windows to our soul, so they say. But for makeup enthusiasts as you are, your eyes are more than just that; they help define your character and even your personality. Be it bold or subtle, your eye makeup can take simple and sophisticated looks and make them stand out by accenting your best features with colours and techniques tailored to your personal style and complexion.
To avoid getting a nightmare eye makeup application, consider this your go-to guide for the best eye makeup trends in 2023 — we've got you covered. Let's dive in! ✨
Bejewelled with Crystal Eyes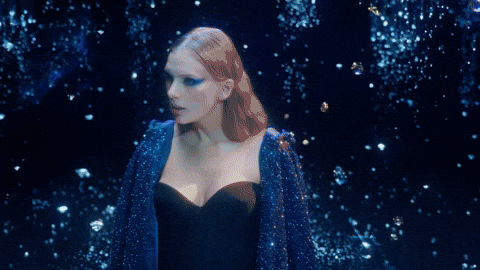 Minimalism has had its time in the spotlight, but it seems like maximalists are ready to shine. Think of glitters, gemstones, sparkles, and full-on crystals. Who wouldn't like those dazzling eyes? Crystal/Bejeweled eyes are where people take gems (or Swarovski crystals if we're feeling fancy, yup Doja Cat we see you!) and use them to accentuate their eyes. One of the most iconic iterations of this trend we've seen is by Pat McGrath (Makeup Artist) who decked out the Queen of Pop, Taylor Swift for eye makeup in her Bejeweled Music Video. It was a mesmerising whimsical eye makeup that's worthy of a statement.
While this eye makeup look may seem daunting both to wear and apply, Pat McGrath assured his fans that it's simpler than it appears and it's definitely for everyone. The first step to mastering this trend is gathering all your tools. You're going to need a pair of tweezers, lash glue adhesive, and crystals. Next, simply pick up the jewel with your tool and apply a small amount of lash glue to the backside of the jewel. Wycon WOW Lashes Glue works great for this. Allow the jewel to dry a few seconds and then, place it where you desire. Nice!
Wispy, Spidey UwU Lashes
Remember the term "spider lashes"? It's giving long clumpy lashes and it wasn't really a vibe and was more the kind of look you tried to avoid, for real. Well well well, how the turn tables. It's been REINVENTED, MODIFIED, and ELEVATED in 2023, influenced by the enchanting world of Manga. Introducing Manga lashes, which, BTW, has garnered over 80 million views on TikTok and counting. Sheee! 🥵
"Manga" is the name for Japanese comic books and graphic novels, and their characters typically have razor-sharp, long lashes that TikTok now refers to as Manga lashes. The look first became popular on a Chinese social media app called XiaoHongShu and then transcended into TikTok by Sarah Cheung, a Toronto-based TikToker with over 200K followers. Ever since, TikTokers and MUAs have been recreating the look with falsies and mascara.
Brows for Bros
Today, alongside health and fitness, men are increasingly becoming more self-conscious about how they look. Part of the credit goes to social media, which has empowered amazing personalities on a diametrically diverse spectrum to express themselves more confidently and charmingly.
Let's start with something simple yet can make a huge difference to your manly face. The Brows for You Bros. With perfectly shaped eyebrows can accentuate the facial features, giving your face a more awakened look. To start, make sure your brows are properly groomed by trimming and tweezing where necessary. Moving on, IN2IT Men Eyebrow Liner comes in handy for those who want to sculpt their eyebrows. This brow pencil is a non-sharpen tip that glides smoothly on brows for easy filling.
Word of advice: Make sure to try matching your hair colour or going one shade darker. Worry not, IN2IT Men has the right shade of brows for your complexion if you need extra help.
Do it for Douyin Eyes
Another day, another slay battle between TikTok makeup trends. You've probably heard of siren eyes—the sultry, elongated cat eyes that have been sweeping social media for a while. Now, it's time to make room for Douyin eyes. I'm sure you've already heard of it — or you may have already seen it but just didn't know that that was it. Either way, Douyin makeup is inspired by the looks posted on the Douyin app, hence its name. In other words, Douyin is China's answer to TikTok.
To achieve this eye look, you may want to add bigger or longer lashes and white liner on the waterline, which will give more of a circle effect to the eye. This look does not need a wing effect and can also be achieved by smudging your eye shadow under the eye, highlighting in the corner of the eye and brow, and adding lashes that are longer toward the center of the eye rather than the end. The eyebrows need to be inspired by K-beauty or just Asian looks in general. No overly arched brows here please! Need a tutorial? Watch here, besties!
Now that you know more about it, will you be trying out this eye makeup look? 😉
Untouchable with Graphic Eyeliners
Untouchable graphic eyeliner is superior. Although it may seem super complicated, almost anyone can pull it off—it just requires clean, sharp edges, bold colour or black, and precision application. When we say precise, we mean Maybelline Hypersharp Power Black Liquid Eyeliner. It has a very thin and precise tip that makes it perfect for lining your top lid and building up the thickness of your line as you go along. It doesn't stray or melt during the day, and it is quite waterproof. To finish, use a clean flat eyeliner brush on the edges of your eyeliner and add a bit of concealer. Voilà! You have your perfect and easy graphic liner look.
Above all, being empowered to try new looks starts with practice and practice. So, spend some time playing with your eye makeup just as finding new ways to pair the clothes in your closet and later, see what your new natural is. No matter what eye makeup look you go For, do it because it makes you emotionally expressive and no rush, no pressure, just HAVE FUN!
Love is in the air and so are our discounts! Visit our E-Catalogue to enjoy RM5 Instant Rebate* with purchase up to RM65 on cosmetic eye range products until 22 February 2023 at Malaysia's No.1 Retail Brand, #WatsonsMalaysia STORES & ONLINE NOW! 🛒
*Terms and conditions apply. While stocks last. Promotion valid from 31 January – 22 February 2023 (WM), 7 February 2023 – 1 March 2023 (EM).